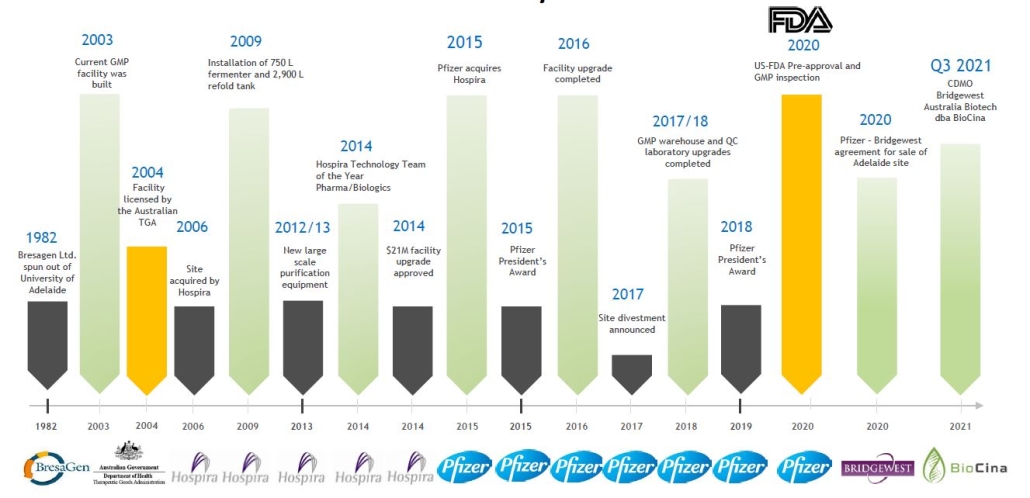 BioCina History
The Bridgewest Group is a closely held investment company with global assets in biotech, wireless communications, infrastructure for "internet of things", semiconductor, real estate, and financial services. In business for over 25 years, Bridgewest has operations across the USA, Europe, Australia and Asia.
With a strong sense of family culture, BioCina puts a big emphasis on trust and open communication, with a goal of high employee and customer satisfaction.
We are thrilled with our first acquisition in Adelaide, Australia. The Adelaide site has an impressive history and all the experience and infrastructure in place to be a significant player in support of the development and manufacture of biological therapeutics for customers around the world. The team is world-class, and we are very excited to have the opportunity to retain such a capable and experienced group of individuals. With additional investment from Bridgewest, we will be able to expand our capabilities and offering as we grow in order to continue to meet the needs of our customers both locally and abroad.
Our facility is currently the only microbial drug substance facility of its kind in Australia to be approved by the US-FDA.
BioCina is derived from "Bio" being the prefix of Biotech, and "Cina" being the suffix to Medicina, Italian for medicine or drug. BioCina has a strong history as a multi-product biologics contract development and manufacturing organization (CDMO), focused on development and cGMP manufacture of microbial-based therapeutics, from preclinical to commercial production. The site, approved by the FDA for commercial manufacturing in 2020, has 40+ years of manufacturing and development experience and over the past 15 years, has worked on over 60 different products and has partnered with more than 30 customers globally.
With customized services, BioCina has successfully performed multiple technology transfers, and developed unique solutions to address technical issues for customers' programs. BioCina strives to provide high quality, cost effective microbial process development and manufacturing solutions to customers worldwide.
Our corporate culture includes a commitment to doing our part in reducing the global Carbon Footprint.
We recognize that any effort to limit carbon emissions, no matter how small, will make a difference. We embody this in how we present ourselves as a Company, both visually and operationally. Our logo represents the science of biologics drug development and highlights our respect for the environment.